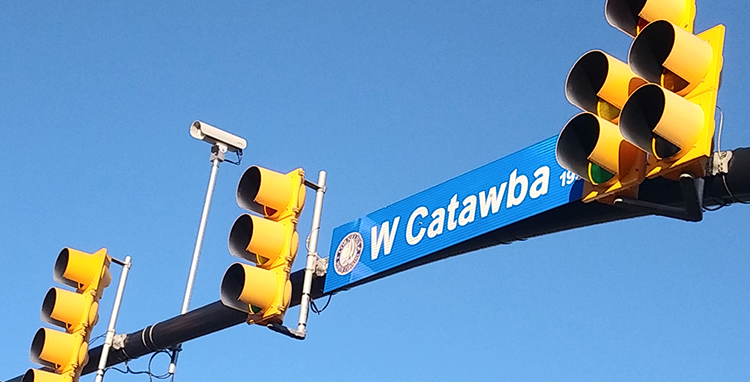 Oct. 12. By Dave Vieser. The long-awaited widening of West Catawba Avenue from Jetton to Sam Furr will be delayed by at least four years. This, according to an eye-opening report issued this week by Deputy Town Manager Wayne Herron.
The delays are being caused by massive cash flow problems at the NCDOT, complicated by the impact of the coronavirus pandemic.
Not happening in 2021
For the West Catawba widening, land acquisition was expected to be completed in 2021 with construction starting in 2024. It now looks like construction won't even begin before 2026 at the earliest and might not be done until 2028 or later.
"This is just a very expensive project, now pegged at over $49 million, which has contributed to the timetable delay." Herron said the price had jumped from $24.2 million.
Impact on new development?
The Catawba Avenue delay is actually one of eight projects facing delays according to Herron. And how delays will impact development projects like the $110 million Alexander Farm Project remains to be seen.
Delays can't be good news for developers anxious to get their projects underway who may have to shoulder some of these expenses in order to proceed with their developments.
Commissioner Denis Bilodeau asked Herron if any decision had been made as to which portion of West Catawba would be done first.
Herron said: "That's something which is usually decided in conjunction with the selected contractor and since we are so far away from that, the answer is 'no.'"
Bilodeau replied: "Wow." It wasn't a happy wow.
The other delayed projects include:
—Torrence Chapel roundabouts, and Highway 21 dual roundabouts: These are both bonus allocation projects and construction, originally scheduled to begin this year, is now delayed to 2022-2023.
—Potts Roundabout: The same delay applies here with the start of construction delayed from 2020 to 2022.
—Northcross Road Extension: Construction begins 2022-2024, several years later than initially anticipated. Herron said part of the delay is caused by additional work needed to modify the road on the Huntersville side near Rubbermaid.
—Bailey Road extension: The construction moves back to 2023 for this short addition connecting the existing road with Highway 21.
—Hickory Street/115 improvements: Off the chart completely. No prospective dates at this time.
—Sam Furr Road and West Catawba Avenue: Construction delayed from 2024 to 2027-2029.
—Highway 21 widening south of Westmoreland Road: Delayed from 2024 to 2031-2032.
Herron held out some hope that the dates could possibly move up in the next year. "The officials at NCDOT know how much these projects, especially the West Catawba widening, mean to us but this is where we stand right now," he said.