Nov. 5. By Dave Yochum. The seven-way race for five seats on the Cornelius Town Board will be determined tonight after all the votes are counted from today and from early voting which ended Friday. Polls opened at 6:30 am and close 13 hours later.
The race heated up late in the game, with dueling newsletters, claims and counter-claims. One well-known political strategist guessed all four Cornelius incumbents would be re-elected. But it's still a horse race.
Ava Callendar, the eighth local candidate on the local ballot, dropped out of the race.
It's a non-partisan race which means candidates run on their own merits, not on party affiliation. In the local race, however, the Republicans seem to squabbling in a contest that's every man or woman himself or herself. There are two women running this year for a board that's been all male since 2013.
Both are being criticized.
New unsigned posters on the Alexander Farm property took aim at candidates Diane and Dave Gilroy, the wife-husband duo who promise they are running separately for Town Board. One sign said: "Two Gilroys equals 40% of your Town Board in one household."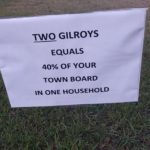 That's true of course, but there are no rules that say electing spouses is worse than morning breath. The Gilroys say they don't talk shop at home.
Of course not.
Dave Gilroy, meanwhile, came out over the weekend with an email that damned incumbents with faint praise—"they're super nice guys"—and inaccurately summarized some of their positions. The incumbents are Thurman Ross, Dr. Mike Miltich and Denis Bilodeau.
But about his wife, Dave said "at least she will think independently."
Bedfellows make strange politics.
Making it all the more interesting, former NC Sen. Jeff Tarte criticized Diane for running in the first place. On his Facebook page, the talkative former mayor said Diane "lacks the skill set" to serve on the Town Board.
A popular hardware item was used pejoratively, even though most people find wing-nuts handy.
Tarte also endorsed former Commissioner Jim Duke as he seeks to regain his seat on the Town Board.
Tricia Sisson, who chairs the Lake Norman Chamber of Commerce, asked why Dave Gilroy has "chosen to falsely represent the opinions of another candidate."
She suggested he is concerned that "simply stating his own positions won't be enough" for him to win.
Taxes are an issue, even though Cornelius has one of the lowest rates in the state. Growth and development continue to be long-term issues as well.
Gilroy's newsletter said his wife has an "uphill battle as a first-time candidate and is taking some shots from the 'get-along-go-along' crowd that supported I-77 Tolls, all 4 major tax increases over the last 13 years."
Duke fired back, saying not true Dave: "Town staff, the Town Manager, and the Mayor also did not agree with you."
County-wide issues on the ballot include new school board members. Out of 13 candidates for
three open seats, only Jennifer De La Jara hails from North Meck, which has been under-represented on the CMS board. The Davidson resident is making her first bid for public office.
The quarter-cent sales tax for arts and recreation is also on the ballot. A grass-roots effort opposes the measure, while a million-dollar campaign has supported it.
The tax referendum has generated the most news county-wide. Voter turnout in municipal elections is usually low​ but pundits are saying the sales tax debate will likely drive voter participation this year.
On a $500 washing machine, the extra tax would be $1.25. It would generate $22.5 million for the Arts and Science Council, $17 million for parks and greenways, $8 million for education, and $2.5 million for arts and parks projects for smaller towns outside of Charlotte, like Cornelius.
It will all be over soon.
By 7 am, no more than a dozen people had voted at 242/Jetton Park, including Dr. Scott Guice who arrived when the polls opened. He said he voted for  De La Jara. There were no Russians, no lines, no rain.
NEW: As of 9 am, about 120 people had voted at 208/Bethel Presbyterian. Nearly 300 had voted during early voting, poll workers said.
One thing is sure, Woody Washam will be the winner when the ballots are counted. He is running unopposed.