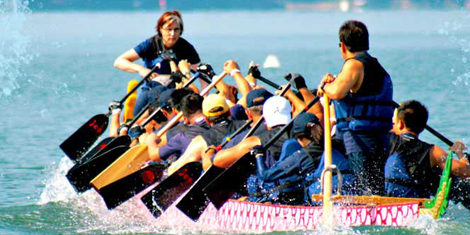 The Charlotte Asian Festival, complete with a Parade of Nations, will turn Ramsey Creek Park into the United Nations of Charlotte this Saturday May 18. Started by the Carolinas Asian American Chamber of Commerce 20 years ago, the festival is among the most popular and well-known in the Southeast.
Charlotte, meanwhile, has one of the fastest Asian-American growth rates in the country.
Opening ceremonies will honor founder Dr. Ki-Hyun Chun, who created the Carolinas Asian American Chamber of Commerce in 1999. Dragon Boat Races are back, with color, drama and fierce competition.
Dragon Boat racing has evolved into one of the most popular sporting events in many countries of the world. The sports, originated in China over 2,000 years ago, promotes competition, fair play, team & community building, culture & history.
This year's charity beneficiary is the Allegro Foundation, a champion for children with disabilities. (More info: cltdragon@cdbanc.org)
Admission to the Asian Festival is free.
Chun said there are some 70,000 Asian Americans in Charlotte and environs. The mission of the chamber is to nurture, strengthen, empower Asian Americans and its business community.
The event includes Country Cultural Booths and incredibly diverse Asian cuisine.
Chun suggested trying everything from Filipino adobo, lumpia and BBQ skewers to Cambodian amok fish, Mee Kola noodles, Bo Luc lac stir fry and Indian curries.
Satellite parking is at nearby North Pointe Executive Park with complimentary and frequent shuttle buses to the park.
More info: www.charlotteasianfestival.com.