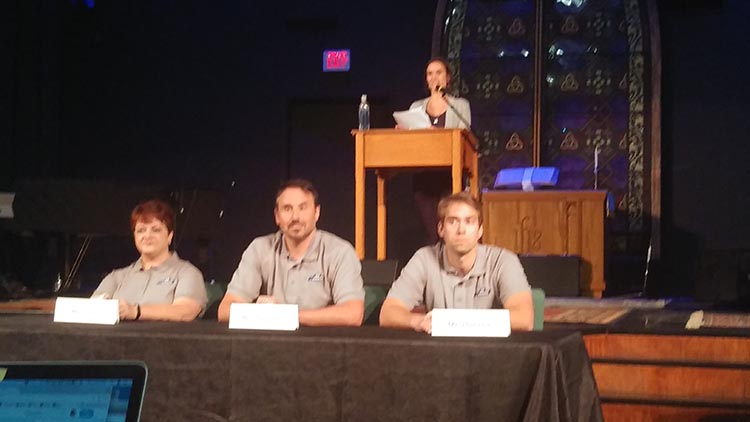 Sept. 13. By Dave Yochum. With a stained glass window and a cross as a backdrop, I-77 Mobility Partners presented a few new details on the toll lanes at Huntersville United Methodist Church.
Christians in the audience were astonished the presenters were not struck by lightning.
Tolls between Lake Norman and Charlotte during peak hours could run $19 per round-trip. The project features "dynamic pricing," which means that toll lane users will pay more when there is more congestion, and less when there are fewer cars in the toll lanes. During off-peak times, pricing will be lower as well.
"We are starting out at $19 and that number may go up," said NC Rep. Chaz Beasley said during public questions.
Rush "hour," as defined by Cintra, a Spanish company, is 2.5 hours in the morning and 4 hours in the aftertoon evening—extending from 3 pm to 7.
Huntersville Commissioner Mark Gibbons asked: "Is it a choice if I'm running late for work and I have to jump into the toll lanes?"
He said the $650 million project which gives Cintra the rights of way through Lake Norman for the next 50 years could have been built for $250 million—and you can't get off at Exit 23 where Novant Huntersville Medical Center is.
Daily toll users over the whole length of the 13-mile project will be paying $20 a day, five days a week. That's $5,000 a year, he said.
The meeting brought new meaning to the word bizarre. Besides sitting in front of a cross and a stained glass window, the Cintra people did not respond to any of the questions posed to them.
They were stone-faced except for project boss-man Javier Tamargo who kept a Mona Lisa half-smirk on his face. The I-77 Mobility Partners CEO never said a word.
"People have concerns and the concerns have been confirmed by the details given in this presentation," said Beasley.
The meeting began with a detailed report read word for word by I-77 Mobility Partners public relations officer Jean Leier. She won the Public Relations Society of America/Charlotte chapter 2017 Infinity Award for excellence in PR.
She did not answer questions.
Cornelius resident William Rakatansky asked a provocative one: "How dare you come to our home and foist your scheme up one?"
He also reminded everyone that Cintra has been saying the toll lanes will alleviate traffic congestion.
"This is totally false and has been proven to be a lie by Cintra's own attorneys, where they state that the purpose of the toll lane is to provide a reliable ride, not alleviate congestion," Rakatansky said.
Gibbons submitted these questions:
Is there a monthly transponder fee and an annual transponder fee?
If I feel there are incorrect charges on my bill, does it cost me anything to dispute those charges?
If it is determined I am correct about the charges, do I get the dispute charge(s) back?
When do I see a late fee added to my account / bill?  30/60/90 days?
When does interest start to accrue on my account?  30/60/90 days?
What is the interest rate on outstanding charges?
What determines that rate?  Is it the same for all?
Does anyone get free use of the HOT lane(s)?  Who?  Why?
If I set up an account and never use it, are there any charges?
Do I accrue a camera charge for every trip I make without a transponder?  How much?