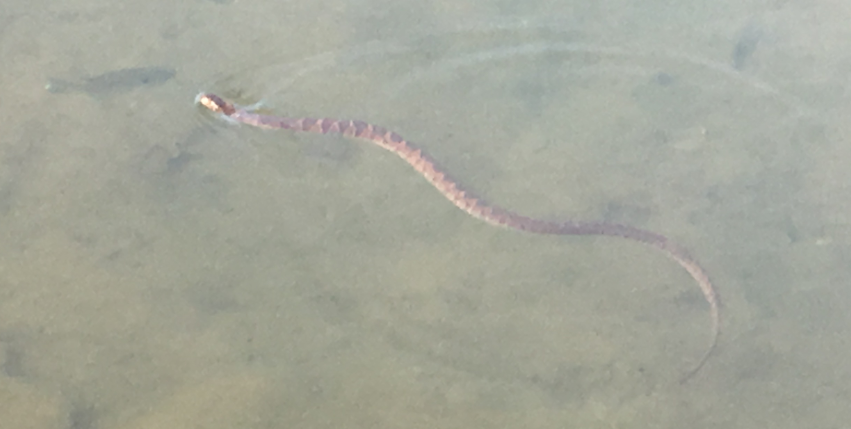 ​
Oct. 30. What's scarier than an adult dressed as a 1970s rock star for Halloween? A snake. Maybe a copperhead. Slithering on your porch, driveway or, even scarier, in the lake.
Melissa and Bill Hart snapped a pic of what looks like a copperhead cruising in the water near their lakefront home off Jetton Road near Sunset Cove Lane and Peninsula Club. ​Their "new neighbor" is three or four feet long and meandered onto a jetski dock. For a look at snakes that swim, click here: http://animals.mom.me/snakes-swim-heads-out-water-7479.html
​So far he (or she) hasn't been apprehended. ​But Copperhead sightings—and bites—are up in North Carolina. With winter approaching, Copperheads are out and about more frequently to search for food. Because it's getting colder, they'll stretch out in the sun on driveways, porches and paths.
​Hiking club leader Lynn Lanquist, a Peninsula resident and Realtor, says there have been sightings in Jetton Park.
​"I wanted to raise awareness, not alarm—from taking out garbage cans to walking on the trails​," she said.
Experts say people out in woodsy area should wear closed toe shoes and long pants for protection. People should be on the lookout while raking leaves.
Copperhead sightings are on the rise near development, as natural habitats are destroyed for new projects. New greenways, buildings and houses drive snakes toward food and protection.
The Carolinas Poison Control Center received 71 calls about snake bites in April,  compared to 19 calls in April 2016. Last year's mild winter may be a contributing factor.
The center receives about 10 times the number of calls about copperhead bites than all other snake species combined. Copperheads, cottonmouths, rattlesnakes and the coral snake are venomous species native to North Carolina.
More info on copperheads: http://www.virginiaherpetologicalsociety.com/venomous-look-a-likes/copperhead-look-a-likes/copperhead.htm