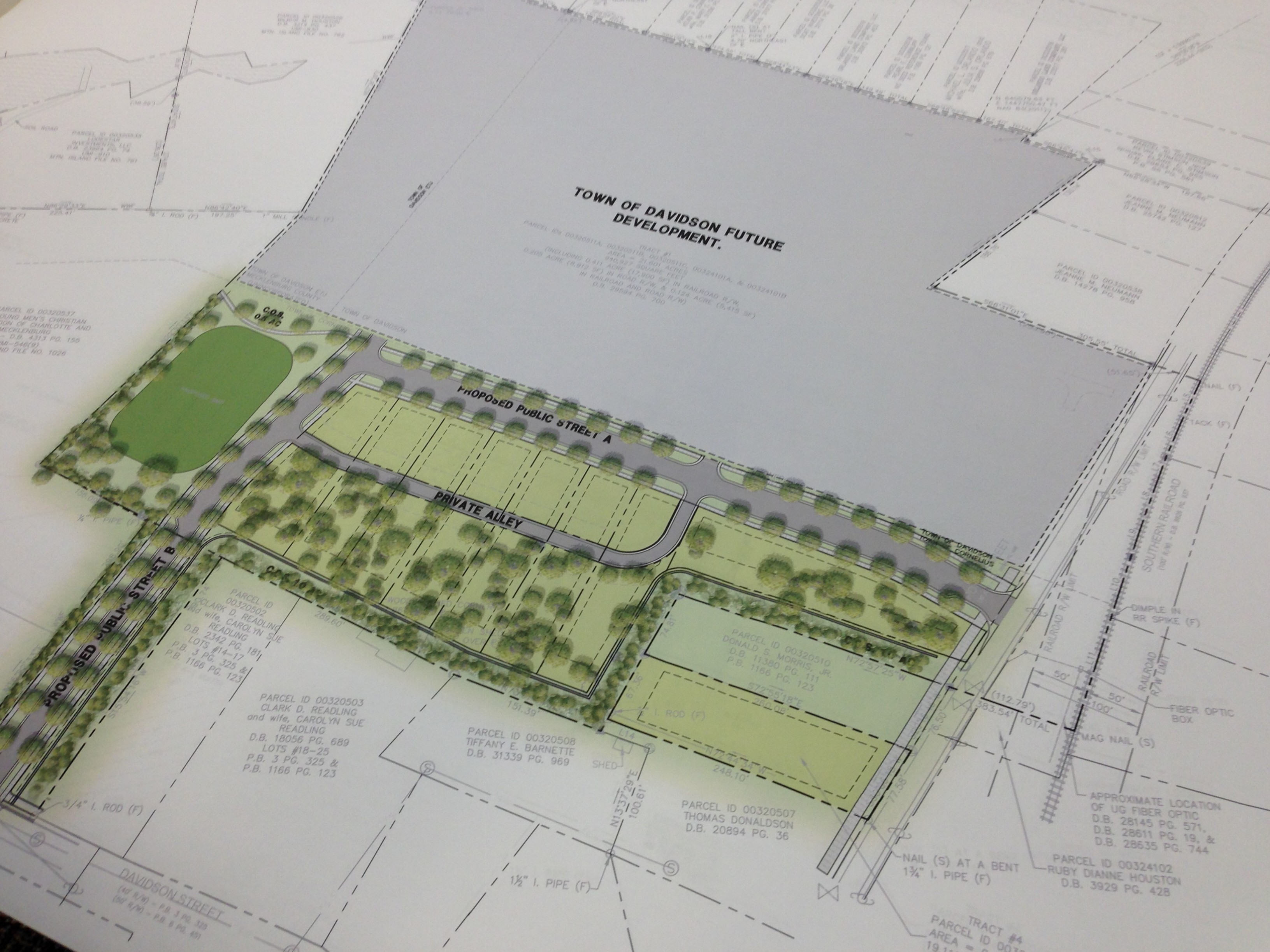 Aug. 10. By Dave Vieser. A community meeting at Cornelius Town Hall last night brought out way more Davidson residents than Cornelius residents, but they seemed equally concerned. The vast majority of the project—nearly 300 apartments and townhomes—is located in Davidson where residents have been up in arms about Crescent Acquisitions' proposal.
Crescent is one of the top developers in and around Charlotte. Its projects include older communities like The Peninsula and the new River District, a massive mixed-use development being built with Lincoln Harris near Charlotte Douglas International Airport.
About 50 residents from the two towns combed through  maps which detailed only the nine single-family homes to be built in the Cornelius portion , but not the 295 units just across the town boundary in Davidson. The maps  showed only a gray area for "future Davidson development" where the bulk of the project  will be built.
This didn't sit well in a region where town officials enjoy talking about a seamless, border-free community in North Mecklenburg.
"If I were a potential home buyer for one of those nine homes and later found out that there were going to be some 295 townhomes nearby, I would be extremely upset," said Barbara Bryan of Davidson.
Crescent's legal advisor was undeterred. "We made it clear from the start that we would not be presenting or discussing the Davidson site plan or taking questions about that part of the plan at the Cornelius meeting," said attorney Susan Irvin, who is representing Crescent.
"This is really unfair" said Davidson resident Nancy Palmisano. "People need to see the whole picture, and that not what is not being presented here tonight."
But Cornelius law supports a distinct, Cornelius-centric approach. "According to our Code, the format and presentation at the community meeting is totally at the discretion of the applicant , " said  Planning Director Wayne Herron.
Pursuant to town law, Crescent must now prepare submit a written summary of the meeting which the Cornelius Planning Board and Town Board can evaluate and utilize in their decision – making process. The schedule for the legally required public hearings is tight, with the Planning Board meeting Sept . 11 and the Town Board just three weeks later on O ct. 2. The dates, however, are subject to change.