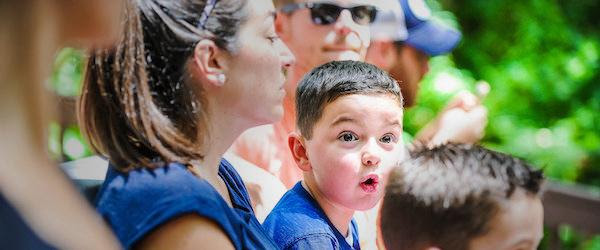 Dec. 14. Following nearly a decade of discussion and visioning, the Carolina Raptor Center is partnering with Mecklenburg County Park and Recreation to create an $11.6 million Quest Adventure Center at the Latta Plantation Nature Preserve.
The projected economic impact is $3.88 million a year.
The state-of-the-art environmental education center will serve as the gateway to Latta Plantation Nature Preserve, which boasts the highest number of visitors of any of Mecklenburg County's nature preserves.
Nearly 500,000 people visit the facility which is off Beattie's Ford Road in Huntersville.
The announcement was made by Jim Garges, director of Mecklenburg County Park and Recreation, and CRC Executive Director Jim Warren.
Calling it a "once-in-a-generation project," the sayd it would increase the Raptor Center's impact across a wide spectrum of audiences, as well as expand conservation efforts.
The project includes design and construction of a county-owned 13,000-plus-square-foot center, complete with interactive exhibits focused on the ecosystem at Mountain Island Lake; expanded indoor/outdoor learning spaces to offer year-round programming; and a gift shop and administrative offices.
A new raptor trail system will include a modern bird care facility and exhibit, aviaries for more than 35 species of raptors and a technologically advanced amphitheater. A renovated Raptor Medical Center will increase the ability to care for injured birds of prey, including eagles, owls and hawks.
To date, CRC has secured $8.8 million of the $11.6 million needed for the project, which includes $1.8 million in private resources that adds to the $7 million capital project by Mecklenburg County Park and Recreation for the facility.
Local companies are providing support as well. Duke Energy has committed $400,000 toward the construction of the amphitheater, which will be named for Duke Energy, and to support the construction of the new raptor trail.
Retired founder and president of Falcon Metal Corp. Bruce Roberts and his wife, Nancy, made a gift of $300,000. He is a former board chair of the organization, now leads the Quest Chairman's Circle and is a member of the "Our Quest" Campaign Cabinet.
Retired president of First Union Securities Ross Annable and his wife, Michele, made a $250,000 gift. Ross, who has been a financial supporter of the organization for nearly two decades, currently serves as a member of the "Our Quest" Campaign Cabinet.
"The Quest Adventure Center will create a unique and rich experience for visitors at Latta Plantation Nature Preserve," said Shawn Heath, president of the Duke Energy Foundation. "Duke Energy is pleased to support Carolina Raptor Center. Its commitment to environmental education for children and families across the Carolinas supports the strategic objectives of our philanthropic giving."
CRC must raise an additional $1.8 million to construct the raptor trail, as well as renovate the Raptor Medical Center. A $1 million endowment is also being raised to ensure that this new community resource will inspire visitors for many years into the future.
CRC's board chair Brian Hughes said: "CRC has raised a significant amount of the funding needed to make 'Our Quest' a success. We now turn to the community—including individuals, companies and foundations—to help us make this project a reality." Hughes is an employee of Duke Energy and is serving in his fifth year on CRC's board of directors.