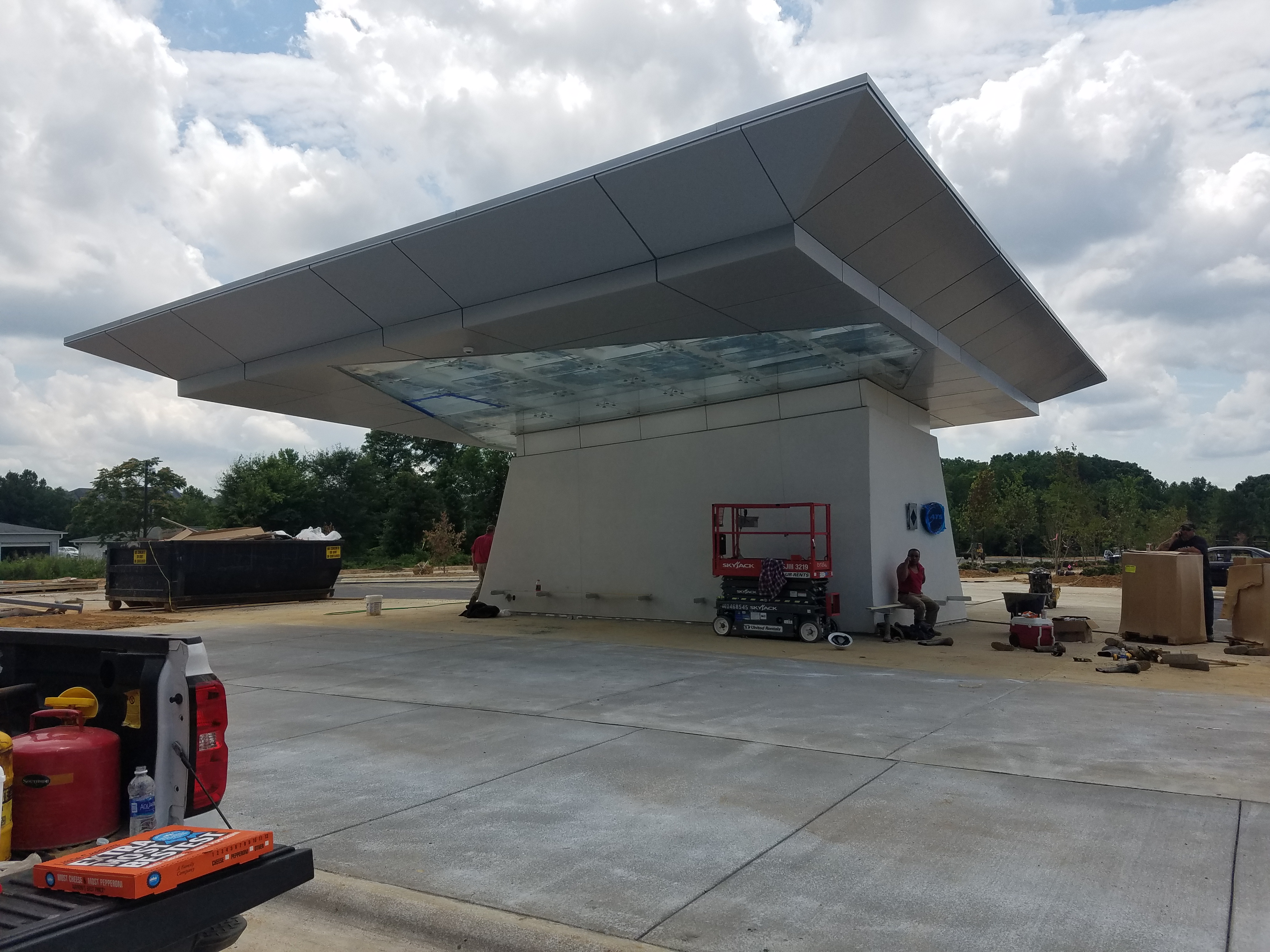 June 19. By Dave Vieser. It will be easier to commute to jobs in Charlotte when the new Charlotte Area Transportation System Park and Ride lot opens on Sefton Park Road on Friday. The mayors of Cornelius and Davidson will officiate at the ribbon cutting at 10 am which heralds changes in routes and schedules, including eliminating some stops on the Cornelius Village Rider Route.
The $5 million Park and Ride Lot project encompasses a 4.34 acre parcel of land along the south side of Sefton Park Road just east of the One Norman Boulevard intersection. The facility is equipped to accommodate approximately 350-400 vehicles and address current and future demand for park and ride spaces in Cornelius and surrounding areas, according to CATS Manager of Project Development David J. Feltman.
Many Cornelius residents who have used the Northcross Park and Ride to board the 77x bus, are expected to shift to the new Cornelius Park and Ride and bus 48X. Debbie Smith, who works for a major financial firm in the Queen City, is among them.  "I've always used the express buses to get to and from work" she said. "Once I get in my seat, I spend the time to and from Charlotte reading, e-mailing or texting with my friends, or simply just relaxing."
The construction was handled by Southside Constructors Inc. of Charlotte. "The facility includes pedestrian linkages to adjacent sidewalks and bicycle racks and lockers, as well as a comfort station," said Feltman. "It can be accessed from Sefton Park Road approximately 250 feet east of its intersection with One Norman Boulevard."
The project was developed in collaboration with the town and Ivan Toth Depeña, an artist who has designed numerous public transit projects. Depeña chose to work collaboratively with the project architect to influence the shape of the comfort station, utilizing a modern design that incorporates a cantilevered awning to function as shelter for riders but also integrated with colored art glass.
Here are route changes:
97 Village Rider: All outbound (northbound/eastbound) trips will now turn right off Catawba Avenue at Jetton Road to serve the new Cornelius Park and Ride. As a result of this change, outbound bus stops on Catawba Avenue between Jetton Road and Liverpool Parkway will be eliminated. Inbound, (southbound/westbound) trips will continue to serve bus stops on Catawba Ave between Liverpool Parkway and Jetton Road. However, inbound trips will also loop off Catawba at One Norman Blvd. to serve the new Park and Ride.
77X North Mecklenburg Express: This route will continue to operate the same in Davidson and Cornelius. However, it will no longer service the Northcross Park and Ride during peak hours in Huntersville. Instead, Northcross will be served by the 48X route. The new AM and PM peak routing for 77X will take it on US 21 to the Huntersville Gateway Park and Ride near I-77 Exit 23. AM peak departure hours are 6:47am – 7:57am, and PM peak departure hours are 3:52pm– 5:52pm. Midday and reverse trips will not change in routing, including midday service to Northcross.
48X: Huntersville Express: This route will now start at the new Cornelius Park and Ride, continue to Northcross Park and Ride and then on to Charlotte.