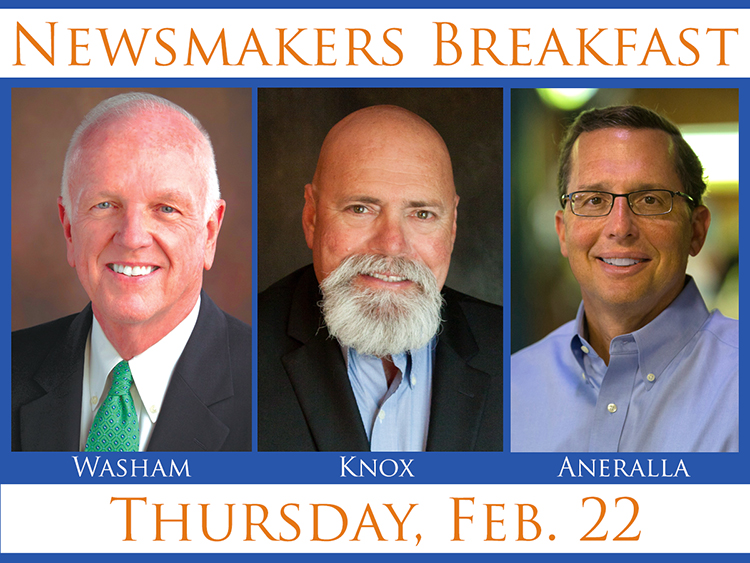 The three mayors of North Mecklenburg 
will 
​field questions from the audience at the
 Newsmakers Breakfast 
​
Feb. 22
 at The Peninsula Club.​ 
​The mayors—Woody Washam in Cornelius, Rusty Knox in Davidson and John Aneralla in Huntersville—show signs of cooperating on issues ranging from development to affordable housing, from I-77 to education. Their opinions, especially when they are in concert, are heard loud and clear by political leaders in Raleigh and Charlotte.
Newsmakers Breakfasts are open-forum Q&As, driven by current issues and news around us. Anyone can ask a question.
Doors open at 
7:15 a.m.
 for networking. The buffet-style breakfast gets under way at 
7:30 a.m.
 The Q&A begins at 
8 a.m.
 and concludes at 
9 a.m.
 The cost to attend, $12, includes a full country breakfast.
Reservations are required. RSVP at 
704-895-1335
 with Visa or MasterCard.
McIntosh Law Firm is the Presenting  Sponsor, The Breakfast Sponsors are Realtor Dixie Dean and Raymer Kepner Funeral Home. Coffee Sponsors are Davidson Wealth Management, G Brokerage and Charlotte Insurance.