Hundreds of people attended a candlelight vigil Monday evening outside the Police Station to remember little Jace Thompson who died Oct. 5 after a nearly year-long battle with a brain tumor.
Known as "Warrior Jace" for his indomitable spirit, he is the son of Cornelius Police Captain Jennifer Thompson and Eric Thompson, a North Carolina Highway Patrol Sergeant. He  had Diffuse Intrinsic Potine Glioma (DIPG), an aggressive brain tumor in the base of the brain.
A memorial service will be held at 1 pm Thursday, Oct. 11 in the auditorium at the Stanly County Agri-Civic Center, 26032 Newt Road in Albemarle, with Rev. Beau Linker officiating. The family will receive friends following the service in the lobby. Here is his obituary:
On Oct. 5, Jace Thompson peacefully and quietly ran into the arms of Jesus as his daddy and mommy were with him at home. Jace was born on Jan. 15, 2013 and immediately completed our lives. A pure joy. From the day we first laid eyes on Jace we knew he was different and would make a big impact on many people's lives.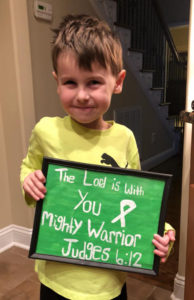 Jace loved with all of his heart and soul. He loved BIG. He enjoyed every waking moment playing outside. He loved to work in the yard with mommy, golf with daddy and play basketball with his big brother, Blake. Jace had quite the green thumb as he learned how to plant a garden thanks to his "Bob," loved playing restaurant with his PawPaw and Grandmommy, and ran through the woods to his big breakfasts his Gigi made him before school each morning. Gigi also let Jace make a mess and learn to cook or create in her kitchen. All of these were invaluable memories to his grandparents. His imagination and ingenuity was endless.
If you were near Jace when he smiled, you could feel the love permeating from his heart. When he laughed, you'd end up laughing, too. Jace had an amazing soul and we are forever changed because of him. He fought with every ounce of his being for 347 days. The definition of a warrior is one who is brave or a fighter; Jace was the epitome of both. He fought courageously and without complaint. Jace is and always will be a warrior.
We believe in our hearts Jace changed the lives of hundreds if not thousands of people, but his leaving this Earth has left a huge hole in the lives and hearts of all who knew and loved him. We are so thankful for the many forever memories we created with our little family and when we are sad, we will draw on those moments to remember Jace's smile, laugh and we will always "Live Like Jace."
Jace is survived by his daddy and mommy, Eric and Jennifer Thompson and proud big brother, Blake Thompson. Paternal grandparents, Richard and Kathie Thompson of Asheboro and Deebie Thompson of Asheboro. Maternal grandparents, Robert and Sharon Sanders of Mount Pleasant, NC. Jace is also survived by an uncle and many aunts and cousins who loved Jace dearly.
Hartsell Funeral Home of Albemarle is serving the Thompson family.
Online condolences may be made at www.hartsellfh.com