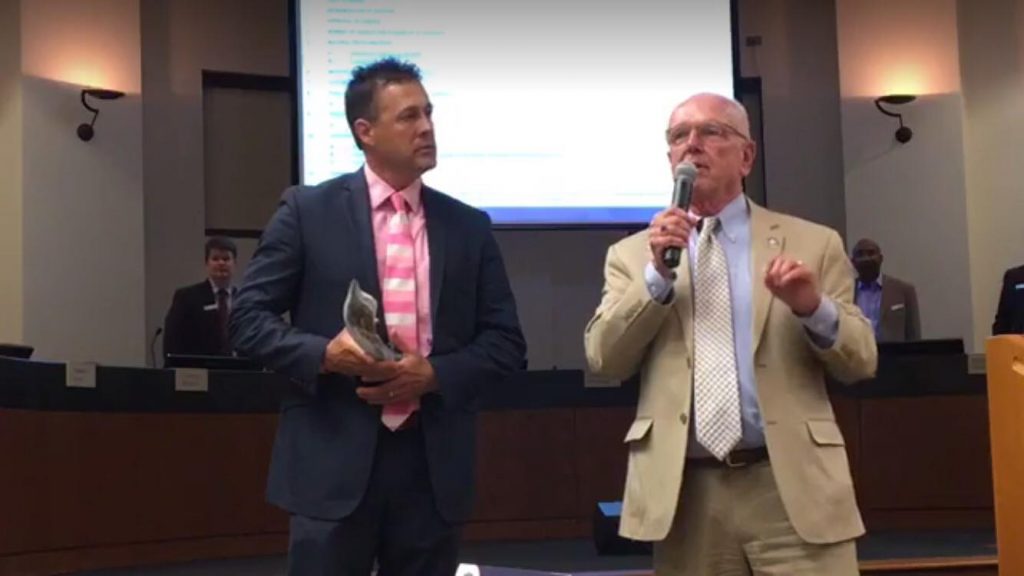 June 5. By Dave Vieser. UPDATED. The Cornelius Town Board unanimously adopted a $23.4 million budget after a public hearing Monday evening, but only those in Town Hall knew: The town's video streaming system malfunctioned for the second consecutive meeting. The spending plan, which maintains the town's low 25.5 cent tax rate, reflects a $2 an hour increase for firefighters.
Firefighter pay became an issue last month when the budget was first presented. Firefighters and supporters came out in force to protest their $13-an-hour pay. Budget revisions reduced the amount of money to be use for the Exit 28 "aesthetic improvements" from $1.39 million to $200,000, with the new-found monies to be used for costs such as the firefighters' raise.
Resident Rick Monroe compared spending  $1.39 million on the odd-looking bridge design—originally conceived as a tourist draw—to "putting lipstick on a pig." Commissioners agreed that paying firefighters a fair wage was better than dressing up the diverging diamond.
Cornelius Fire Chief Neal Smith had asked for the $2 an hour pay increase to $15 an hour. That cost about $120,000 a year.
The tax rate will result in property taxes of approximately $637 for a home assessed at $250,000. County taxes, of course, come on top of local property taxes.
Veteran Commissioner Dave Gilroy, who has voted against a number of municipal budgets in the past, grudgingly supported this one. "I'd give it a C-minus. What we're doing in public safety and transportation is very important," he said.
Next year, a new county-wide revaluation is expected to raise property values as much as 30 percent above current levels which were set in 2011. A "revenue neutral" budget next year would actually reduce the tax rate.
"We will need to see if we can achieve a revenue neutral budget next year. With new tax values rolling in, it should be quite a challenge," Gilroy, perhaps the most financially astute commissioner, said.
Mayor Woody Washam called the budget adoption a "good process" and he thanked all the commissioners for their work.
The commissioners also recognized Town Manager Anthony Roberts' 17 years of service to the town. He has accepted the town manager position in Huntersville.
Assistant Town Manager Andrew Grant steps up to the town manager position. Meanwhile Planning Director Wayne Herron becomes one of two assistant town managers along with Tyler Beardsley, formerly assistant to the town manager.  Beardsley will be assistant town manager/public works director; Herron will be assistant town manager/planning director.
Both will remain heads of their respective departments for the foreseeable future, Grant said.
PHOTO BY MICHELLE FERLAUTO