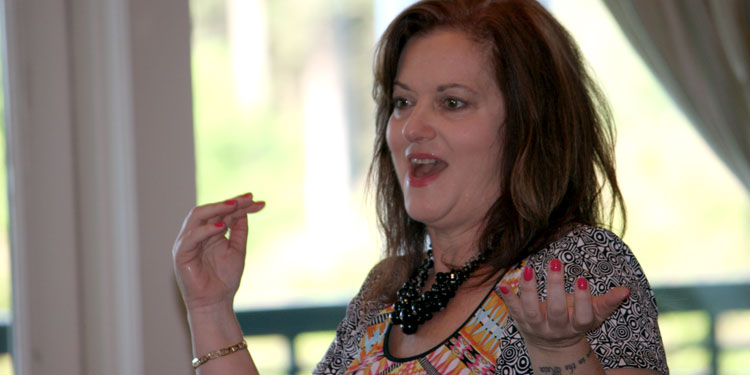 By Dave Yochum. Will your child be guaranteed a seat in a nearby school in future years? Right now, Charlotte Mecklenburg Schools students are assigned to a home school based on their residential address, not race or income.
Rhonda Lennon, CMS board member from North Mecklenburg, aims to keep it that way. The Cornelius resident was the lone dissenter at a CMS Board of Education meeting in February that saw the board approve establishing broad new goals for student assignment—the politically correct way of saying busing—7-1. The goal, noble as it is, is divisive in a district that includes poor of all colors and broad stretches of distant suburbia.
"We can be part of the solution but we are not part of the problem. Since when did it become the school system's responsibility to solve poverty?"

— CMS board member Rhonda Lennon
Lennon, 54, is one of the region's most influential elected officials. She comes at the school board with the sensibilities of a hard-working single parent, a businesswoman and an activist.
Her history of activism goes back to the early 2000s. Charlotte and Mecklenburg County were growing rapidly and school populations were soaring. Education trailers were a common sight.
RELATED: CMS Board member is speaker at Newsmakers Breakfast March 24
Lennon got involved in the PTA at David Cox Elementary; she was a room parent with former Cornelius Mayor Jeff Tarte, now a North Carolina state senator.
In 2003 she started FUME, or Families United for North Mecklenburg Education. The goal was to reduce over-crowding and accomplish change on the CMS board, which was struggling to keep up with a fast-changing, fast-growing population.
Race was an issue, with a school-assignment lawsuit going all the way to the U.S. Court of Appeals for the Fourth Circuit in Richmond, Va.
But is fixing the root causes of generational poverty the role of a school system? Lennon says it isn't. One of only two Republicans on the school board, she said fixing generational poverty "will take a combined effort of civic, church, community and government leaders working together."
She has high praise for the Lake Norman Chamber and its efforts to bring business leaders into North Mecklenburg schools, through the Lake Norman Education Collaborative.
"However, I believe one of the great equalizers is having an engaged parent in each child's life. If that parent has abdicated their responsibility or is just too busy working to feed their family, then we need to get another adult to step in to help," says Lennon.
Members of the business community are behind Lennon as well. Jim Engel, CEO of Aquesta Bank, has five children in CMS or who have graduated from CMS.
"Schools are simply a poor platform for social engineering. Increased parental engagement, improved resource deployment, targeted mentoring, like Big Brothers & Big Sisters, social support, like food programs and technology availability, are all aspects that can have meaningful impacts. But, busing will only accelerate the demise of the CMS system as more parents choose private schools or a short move to Iredell County to avoid an ill advised CMS social engineering program.
Charlotte was recently ranked No. 50—dead last—on a list of the nation's 50 largest metro areas in economic mobility, the ability of people to move up the ladder to a higher standard of living. A historically segregated Charlotte is still divided along major transportation arteries. As many affluent citizens left, inner-city schools were left with fewer resources and teachers who were willing to stick around for more than a few years.
Lennon volunteers with mentoring groups, including Big Day at the Lake which supports Big Brothers Big Sisters. "Having an engaged parent or a mentor can break the predictive links of poverty," Lennon says. "We can be part of the solution but we are not part of the problem. Since when did it become the school system's responsibility to solve poverty?"
"We have to determine what we can do from a student assignment perspective that will stabilize schools and provide options of either a great neighborhood school or a quality magnet option… We as a board need to guarantee students a seat in their neighborhood school, unless they choose a magnet, or we're going to drive even more parents to choose schools outside of CMS, like charters and private schools. It's about parental choice," Lennon said. "Parents need to be able to choose."
With a review under way, it could all be very philosophical right now. The board's new goals include provide choice, reducing concentrations of poverty, easing over crowding and protecting successful schools.
The Cornelius Town Board has taken note. There are at least three votes for a resolution that could conceivably object to the notion of busing and at the same time ask CMS to guarantee a seat for each child in a neighborhood school. Commissioner Dave Gilroy took an early and strong position last year, backing Jeremy Stephenson, an anti-busing candidate, for school board. Stephenson lost, and Gilroy may propose a resolution in favor of a guaranteed seat.
"The concept of neighborhood schools is paramount in Mecklenburg County and particularly in North Mecklenburg. I would certainly support Cornelius getting on board with a resolution, etc. to provide our District 1 Representative, Rhonda Lennon, additional support with her efforts and to provide feedback to the entire school board. I have lived the busing era that our county experienced in the past and it simply does not work," Mayor Pro Tem Woody Washam said.