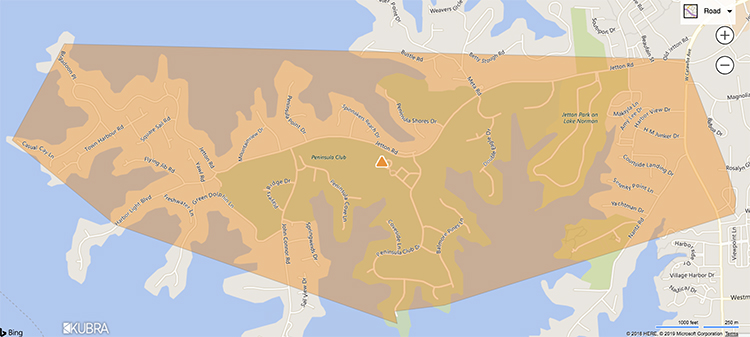 Jan. 11. UPDATE 705 pm. Power to more than 900 electric customers down Jetton Road was restored about 7:05 pm after a 10-hour outage. There was no official word back from the utility, but unspecified damage to underground lines were at fault.
The power outage extended down much of Jetton Road to Serenity Point and Ramsey Creek Park on Nantz Road. A spokeswoman earlier today said the failure occurred underground. Utility workers were actively digging on Jetton opposite Peninsula Point Drive at around 5 pm.
Cable and phone services provided by Continuum, formerly known as MI Connection, were also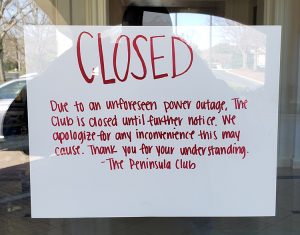 out of commission in the area, according to  the company. Cable popped back on at 7:05.
The outage was caused by unspecified damage to Duke equipment, sometime around 9 am Thursday. Most power outages are restored in about 3-4 hour; this one lasted about 10 hours.
The Peninsula Club and the Peninsula Yacht Club closed for lack of electricity. Solo-preneurs and those who work from home found power and internet at Waterbean and Aquesta as well as PostNet in Jetton Village.
We started covering this story around noon Friday. Here are the updates:
UPDATE 2:30 pm: Duke Energy crews are gathered at the power substation on Lake Norman Cove Drive, not far from the Harris Teeter on Jetton. Crews from Pike Electric are on the scene as well. Duke still says 6 pm for power to be restored.  PostNet and other stores in Jetton Village have power.
UPDATE 4 pm: Duke Energy has brought in additional crews to help get the job done. They are still looking at 6 pm. Still no word on what caused the outage—partly because it occurred under ground. 
UPDATE 6pm: Customers said text messages from Duke say power will be restored at 7:30 pm.