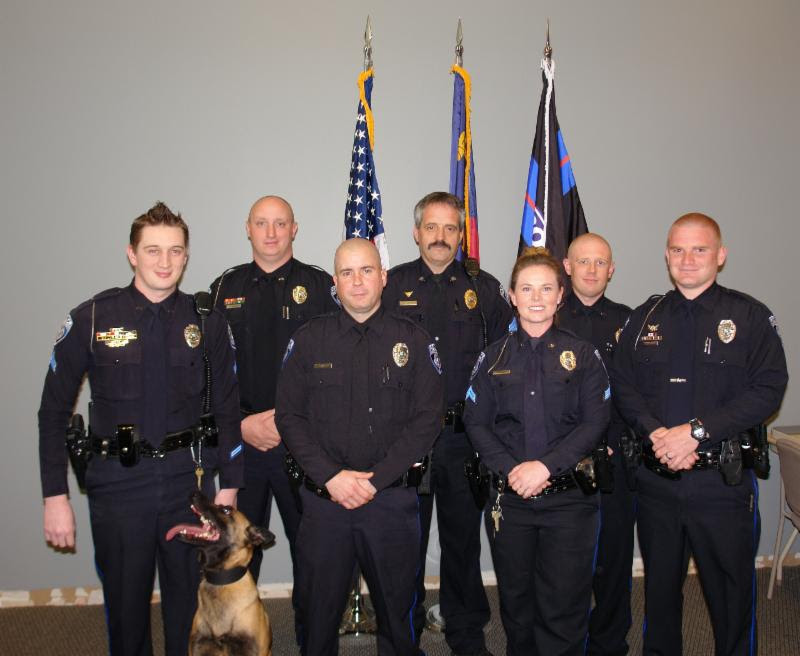 The Cornelius Police Department has honored nine officers for their accomplishments and dedication to law enforcement.
Corporal Collin Rhinehardt and Corporal Robin Watts received their Advanced Law Enforcement Certificates from the N.C. Department of Justice Education and Training Standards Commission. This recognition is the highest award an officer can receive based on law enforcement training and experience. Rhinehardt and Watts both serve on the Lake Patrol Unit.
Lieutenant Reggie Vanzant, Sergeant Jonathan Sarver, Corporal Derek Queen, K9 Lex, and Officer Travis Morrison all received the Life Saving Award for their quick action during incidents last year.
On Aug. 10, Sergeant Sarver responded to a cardiac arrest call on Amberside Rd. The nature of the call was an elderly female choking on a piece of meat. Sergeant Sarver delivered several back blows to the victim which caused a large piece of meat to dislodge from her airway. The victim began breathing normally and was transported by MEDIC to the hospital. MEDIC Crew Chief Kyle Bielan stated had Sergeant Sarver not acted as he did, they would have had to perform CPR on the victim and she may not have survived.
On Aug. 11, officers were dispatched to a suspicious vehicle call in the area of 22831 Torrence Chapel. While en route to the call, Officers were advised of an unconscious male. Lieutenant Vanzant was the first officer on scene, pulling the subject from the vehicle and utilizing the breathing mask included in the AED kit. Lieutenant Vanzant administered rescue breathes for 6 minutes before Cornelius Fire Department and MEDIC arrived on scene.
On Dec. 4, the Cornelius Police Department received a call for service in reference to a suicidal subject at Robbins Park. Officer Morrison, Corporal Queen, and his police K9 Lex were some of the first responders to arrive on scene. They located the subject's vehicle parked on the side of Robbins Ridge Road, just south of a 12-acre wooded preserve and nature trails area located at Robbins Park. The officers sent canine Lex on a track for the subject. Despite being told they were out of position by the caller, they continued through the woods following Lex's lead and direction. Approximately 15 minutes after arriving on scene and after tracking several hundred yards through the woods Officer Morrison, Corporal Queen, and K9 Lex located the missing 17-year-old. Officer Morrison lifted the subject up so that they could get the noose off of his neck and lowered him to the ground. The 17-year-old was given some time to recover then walked out of the woods with the officers.
The rapid response and efforts of these officers was determined to be directly responsible for saving the victims lives in each on these incidents.
Corporal Christopher Prescott was awarded the Employee of the Quarter for his response to an incident on October 31. At 12:43 am, Corporal Prescott initiated a traffic stop for a minor traffic violation. Upon further investigation and gaining consent to search, Corporal Prescott seized a small amount of methamphetamine and one Adderall pill. The suspect was arrested and charged with Possession of Methamphetamine and Possession of Schedule II. The suspect was referred to Cornelius VICE Officers and provided vital information that led to the seizure of one pound of methamphetamine. This has resulted in an ongoing Federal investigation and two suspects are looking at mandatory minimum sentences of 120 months.
The 2017 Officer of the Year was awarded to Officer Bryan McGahan. On March 12, 2017, Officer McGahan was dispatched to Bailey Road Park Soccer Field in reference to an unconscious male soccer player. This incident was captured on the Milestone camera system and shows Officer McGahan deploying and using his AED without hesitation on the citizen who had stopped breathing. "There was no complacency in his actions and it was clear that Officer McGahan was fighting to save this citizen's life," according to a CPD statement. "Multiple shocks were administered and as a result, Mr. James Thomas Dunworth III (age 34) was revived. These efforts were determined to be directly responsible for saving the victim's life."