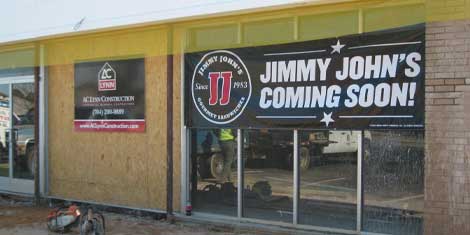 March 9. In addition to banks, Cornelius is becoming the place to be for food. While work is under way at the new Penn Station Sandwiches on West Catawba Avenue, Jimmy John's says it will open two blocks to the north, next to the Tropicana.
In another win for local economic development, the 2,300 square foot eat-in/take-out restaurant, along with a drive-through facility, will be opening within the next several weeks at 19732 West Catawba Ave., in space once occupied by a smoke shop and before that the Pantry Convenience Store.
"We are stoked to become a part of the Cornelius community," said Jimmy John's spokesman Nathan Louer. "Our owner, Matthew Perrault, has multiple Charlotte area locations including Mooresville, and had been patiently waiting for the right location to become available. He finally found the right building in Cornelius. We love creating local jobs and look forward to bringing our freaky fast subs to Cornelius!"
Jimmy John's is a franchised sandwich restaurant chain, specializing in delivery and take out. Based in Champaign, Ill., the company opened their first restaurant in 1983. Today, they have over 2,000 locations in 43 states, including facilities in both Huntersville and Mooresville. They take great pride in using fresh ingredients. "No additives, no vegetable-based fillers, no fake stuff," is how they put it on the company web site. "Real Hellmann's mayo, real Grey Poupon, real olive oil– it's the best of the best."
Parking will be available in both the front and rear of the new Cornelius restaurant, according to Peyton Woody of Woodbine Design, which is handled the restaurant's refurbishing.
"The owners elected not to go through the lengthy rezoning process" Woody said. "Therefore, the drive-through will be located behind the restaurant, and a new access driveway will be constructed from Manhattan Parkway. We're also adding parking spaces in the rear too."