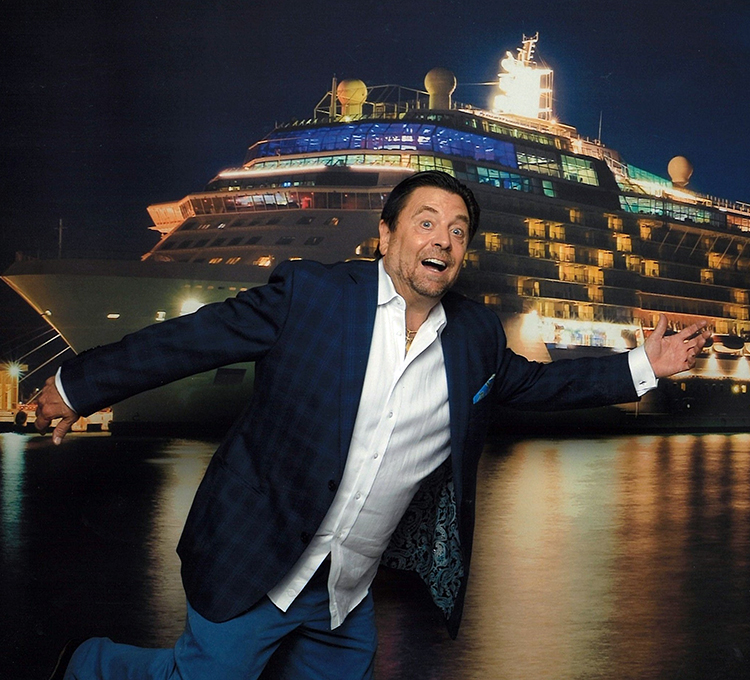 Jeff "Dino" DiNicola passed away peacefully at his home in Huntersville, NC on 1 November 2017.

Jeff loved people and loved life, which he led with a vibrant passion and will to do good for others.  Whoever coined the term, "he'd give you the shirt off his back" had Jeff in mind.

Born March 21, 1954 in Pittsfield, Mass, Jeff was an exceptional athlete.  Jeff played football, basketball and baseball in high school. Jeff excelled on the baseball diamond and was starting left fielder and a clutch hitter on the historic St Joseph Crusader Massachusetts High School state championship baseball team in 1972, which was the first state championship team, in any sport, in the school's storied athletic past.

Jeff applied his baseball hitting skills to the golf course and had a passion for the game that took him from his home course, North Stone Country Club in Huntersville, NC, to famous tracks around the world, from Ireland and Scotland to Hawaii and many places in between.

An incredible chef and wine connoisseur, Jeff was at his best in the kitchen cooking up his famous pasta and meatballs, or another delectable dish, while sharing one of his favorite wines with family and friends.  And Jeff had many, many friends who recently remembered him as, "greatest guy I ever knew"; "top 5 people I ever met"; "most generous man ever"; "stand up guy" …and the list goes on.

Dearly loved by his family, Jeff was affectionately known as "Uncle Buck" by his nieces and nephews, who absolutely cherished their time with him when Jeff "baby sat" during their parents' vacations.
"Dino's" fiancé Karen Tovar expressed that: "In the 12.5 years we were together, our relationship grew stronger every year…we enjoyed so many of the same things and each other. "Dino" taught me to enjoy life, to embrace all blessings and to "just be".  "Dino" will be sorely missed…the memories of "Dino" will always be in my heart. He was a wonderful, kind, generous and funny man."
 
Jeff couldn't do enough for other people.  He was a Rotarian, regularly attended and contributed to countless charity events, and was the President of the local Little Smiles charitable organization for children.

A big Steelers fan, Jeff loved watching all sports, attended multiple Super Bowls and all golf "majors" among other events, and could be seen with a huge smile on his face while enjoying a cold Bud Light and a Cuban cigar while watching a game.

A successful businessman, Jeff started his marketing career in the late seventies after graduating from the University of Massachusetts in Amherst in 1977.  A natural born salesman with a magnetic personality, Jeff culminated his work life by creating his own business, T&E Sales, which thrived under his leadership.

To say that Jeff will be missed is the understatement of the millennium.  So many people now have a void in their life with the loss of Jeff, and it is void that cannot be filled.

Jeff is survived by his fiancé, Karen R. Tovar of Cornelius, NC; brothers, William DiNicola and his wife Lisa of Dalton, MA, Peter DiNicola and his wife Phyllis of Mt. Pleasant, SC ; sisters, Patricia Douillet and her husband Roger of Pittsfield, MA and Elizabeth Couterier and her husband Russ of Worcester, MA ; Nieces and nephews, Nicole Douillet-Guzman and her wife Liana, William Douillet, LeiAnna O'Laughlin, Casey DiNicola, Christine DiNicola, Lauren DiNicola, Catherine DiNicola, Megan Stacey and her husband Rob and Jack Brunell; and great nephew Cruz Volin Douillet-Guzman.
Jeff was preceded in death by his parents, Alberico J DiNicola and Christine E. Volin DiNicola.
A "Celebration of Life" will be held on Sunday November 12, 2017 from 3:00 – 6:00 PM at NorthStone Country Club, 15801 NorthStone Dr., Huntersville, NC.
A memorial service will be at 
10:30 AM, Monday November 13, 2017
 at Grace Covenant Church, 
17301 Statesville Rd., Cornelius, NC
.
Memorial contributions may be made to Little Smiles NC Chapter, 
17748 Kings Point Dr., Cornelius, NC
28031
 or Project Healing Waters Fly Fishing/Charleston, SC or Camp Luck P.O. Box 5159, Charlotte, NC  28299.