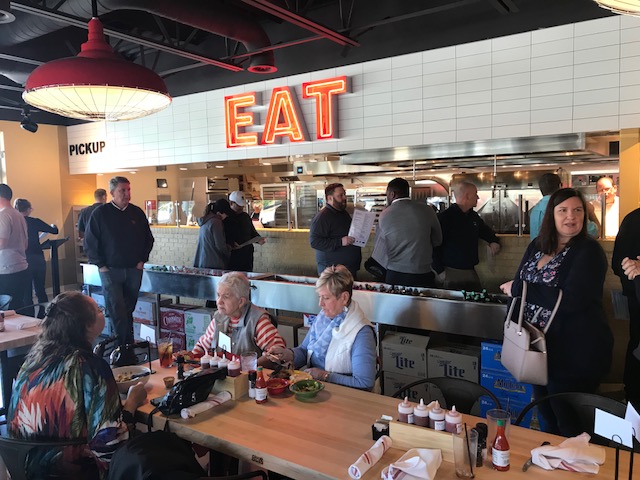 March 26. By Elisabeth Richardson. After making us wait for months, Cowboy Steak Chicken & Ribs officially opens today, offering a full menu featuring Rotisserie Chicken, Beef Brisket, Bone in Beef Rib, Filet Mignon, Smokey BLT Salad, Southwestern Chopped Salad and more. The menu centers on traditional steak and BBQ fare, often with a twist. For instance, the BBQ Brisket Tacos are sure to become a lunch favorite with cheddar/jack blend, creamy coleslaw, pickled red onions, and peach habanero BBQ sauce.
(There have been soft openings and a VIP event Saturday night with elected officials, hence the picture.)
The owner is Joe Douglas, proprietor of 131 Main, just across Bailey Road. Salads at Cowboy are $10-12. Baskets start at $8. Platters start at $13.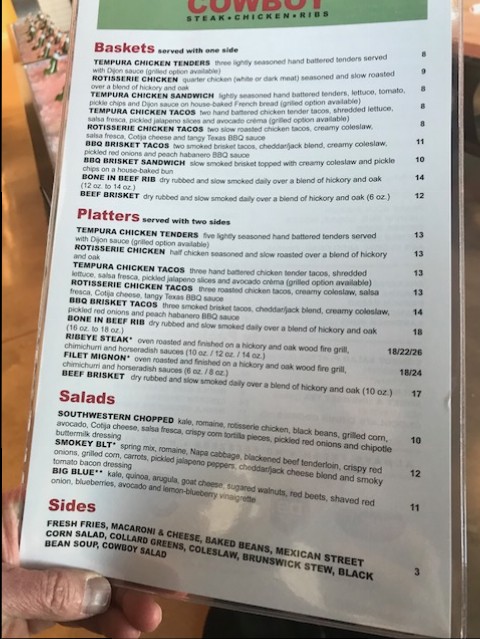 Diners place and pay for their orders at a checkout stand that is just outside the open kitchen that feels like an upscale diner, complete with the word EAT above it in bold red neon letters.
This mix of retro and upscale is throughout the eatery—cloth napkins, signature BBQ sauces (all made fresh on site and rotated out every two weeks), hand-spun milkshakes.
Next stop is the beverage center, which features sweet tea (for the truly Southern), unsweetened tea, soft drinks, and an assortment of wine and beer, both on tap and in bottles.
There's an astute selection of wines, and the draft beer choices are all from local breweries: Eleven Lakes, Primal Lager, Ass Clown Pilsner, D9 Hakuna Matata and OMB Copper.
Finally, guests settle into community style seating at both high and low tables, which encourages interaction and adds to the laid-back vibe. Within minutes a server delivers the food to their table. Need refills or dessert? The server can help with those too.
And if guests want to take something home for later, they can grab a French Baguette, French Loaf, Bahama Bread, or a fresh Pecan Pie at the Pickup Counter.