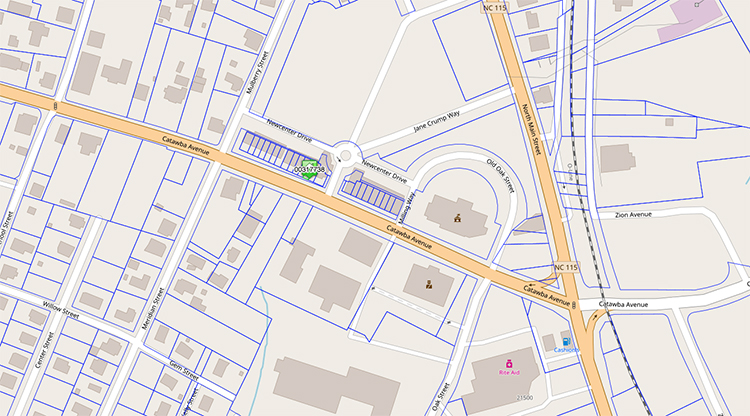 When Lenore Cuyler opened her styling salon downtown, Catawba Avenue came to an abrupt end at Main Street. Now Catawba continues east into Antiquity, and there's a thriving new center of town.
"It's exciting to be part of this vibrant historic downtown community," she says. The owner of The Style Merchant—she learned hair cutting under stylist to the stars Paul Mitchell—lives above her shop just west of Town Hall. "I love my work-live space and being a close walk to grocery and other shops," she says.
Long-time residents remember when there was a massive, decaying mill in the center of town, complete with goats on the roof to keep the grass under control. The north side of Catawba has been redeveloped with the Food Lion and the three-story, live-work units where Cuyler's shop and home are located.
Town officials are hoping more people—and businesses—will come downtown as the Cain Center for the Arts takes a step closer to reality, thanks to the $5 million naming gift from Ericka and Bill Cain, owners of Cornelius-based Financial Independence Group.
"I am very excited about the future of retail in our downtown business district," said Mayor Woody Washam.
Downtown got a transformational shot in the arm in 2013 when voters approved $4 million worth of downtown redevelopment bonds which could include an arts center.
"As that project has evolved toward reality, redevelopment efforts ignited into what has become a foundation for the future," Washam said.
Retail will follow in the form of breweries, restaurants, pubs and stores "that are unique to our area," Washam said.
Real estate experts say this area presents a challenge, partly because of the redevelopment that took place two decades ago.
Town Hall and the Police Station are highly monumental in scale, says Charles Knox, the founder of The Knox Group and a graduate of Davidson College.
The sizable buildings with their brick walls present imposing barriers to the easy pedestrian flow of a Birkdale Village, said Knox, who is an investor in the Oak Street Mill project just south of the Police Station.
The live-work units that include Cuyler's business are small from a retailing perspective, Knox added, explaining that some of them are service operations. On any given Friday night, most of the businesses are closed.
They're use-restricted as well, so that the owners must live upstairs and run their businesses on the ground floor. That can limit marketability, said Knox and Karen Tovar, another commercial real estate broker in Cornelius.
"It's a very narrow market where the proprietor wants to live upstairs," said Tovar, a member of the town's Land Development Code Advisory Board.
"The concept was right but the execution was wrong," Knox said, pointing out that retail spaces are much larger in Antiquity, which is bustling.
From a real estate perspective, buildings on the other side of the street provide greater flexibility around redevelopment, Knox said.
Meanwhile, apartments like those in Antiquity provide the foot traffic that the Police Station, Town Hall and the live-work units don't necessarily provide.
He said investors in the Oak Street Mill, which has the antique mall upstairs and retail on the base level facing north, have discussed redeveloping the project to include office space, a hot commodity in and around Charlotte right now.
"All the mills in Charlotte that have converted to office stay full," Knox said, "but that creates different challenges." No decisions have been made on the next iteration of the Oak Street Mill. "We're not sure of how Oak Street plays into it."
A well-known real estate expert, Knox said commercial real estate isn't brain surgery. "But it's expensive when you have to fix it," he said.
Downtowns like Mooresville's and Salisbury's benefit from a pedestrian-friendly scale on both sides of the main streets, Knox said.
Knox said he is bullish on downtown Cornelius, "but if you want to make it a success, figure out how to get the train running." Commuter rail between Charlotte and Lake Norman was promoted going on 10 years ago, but discussions went nowhere because Norfolk Southern Railway was unwilling to share its freight line through downtown.
  Meanwhile, affordable/workforce housing studies have begun in the Smithville community "and need to be expanded to include areas to the east toward downtown," Washam said.
"We've come a long way over my lifetime remembering when it was a treat to buy treasures at Harrill's Five and Dime, get my flat top haircuts by Mickey Potts, have a hot dog at Albert's Grill or visit my Mom at Bank of Cornelius," he said.
 While we are not there yet, the ball is rolling faster each day, Washam said.  "We will have a downtown that is full of stores, restaurants, rooftop bars and a first class Arts Center.  But most of all, we must assure that we have a downtown full of life, activity and vision that we will all be so proud of for the years ahead."