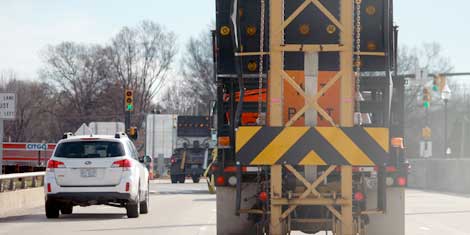 March 18. Catawba Avenue traffic around the DDI will get better. Seriously. Police Chief Bence Hoyle says he believes the worst is over, based on conversations with the people in charge of striping the Diverging Diamond. And that's the NC Department of Transportation.
"After some discussions on the mess they created, [they said] the rest of the work would have less impact," the police chief had. East-bound traffic Tuesday afternoon was backing up from the bridge all the way back to Jetton Road.
Thing is, the police department communicated with the DOT prior to the striping project getting under way.
All is not well between the DOT and Cornelius as plans for a "super street" for Catawba avenue between Jetton and Sam Furr road unfold.
In an email interview with Cornelius Today, Chief Hoyle said: "That said, the frustrating part is we had this conversation with NCDOT before this happened. We told them to do this at night, but we have no control over them. The best we could get from them is they would try to avoid the rush hours and lunch rush. Frustrating."
Striping is being done between 9 am and 4 pm and is expected to continue no more than seven or eight more days.  Town staff say they were not notified until around Friday noon last week. They, in turn, issued a press notification around 9:30 am Sunday saying the work would begin Monday.
It didn't, although a WSOC-TV news van was on scene at 9 am Monday. Striping began in earnest yesterday—while town officials were on a budget retreat in Winston Salem—and all heck broke loose. Drivers on Catawba avenue could not get from Point A to Point B without major delays. It ended in the evening, and it has not been as bad today.
Road Rage
Does the DOT 'hate' Cornelius?
Of course not. But relations aren't buddy-buddy. The breach apparently dates back to the widening of West Catawba Avenue from I-77 to Jetton five or six years ago.
According to a mid-level DOT engineer who spoke exclusively to Cornelius Today, they had planned fewer turn-around lanes—like the one near Goodwill—but the town wasn't happy.
Keep in mind Cornelius is known as a path to the top in GOP politics, this where a non-partisan local government is the order of the day. Of course, the DOT has long been a creature of Democratic rule in Raleigh.
Elected officials here complained to other elected officials who came in and forced DOT to add back the turn lanes. Ever since, according to the engineer, the DOT has not been especially happy with Cornelius.
Of course the higher-ups would never say so in public. Current and past elected officials will only discuss the rift off the record. Meanwhile residents and merchants bear the brunt of transportation planning after the fact.
A new plan
A power coalition of elected officials got behind plans to widen I-77 with the help of a public-private partnership, which means toll lanes up and down the 77 between Lake Norman and Charlotte.
That coalition seems to be falling apart. NC Sen. Jeff Tarte, the former mayor of Cornelius, has backed away from the toll lane plan, along with NC Rep. Charles Jeter who is the primary sponsor of House Bill 203 which would provide alternate sources of funding for new lanes to I-77.
On his Facebook page Tarte said new highway funding legislation could include:
"Combination of single digit locked in gas tax, 'heavy levy' on big trucks (see state of Oregon), annual fee per vehicle separate from property tax, ban on toll, HOV and HOT lanes without a referendum. Existing and planned toll projects revert to GP lanes and must stay on current project time line. Capped nominal toll fee per mile on referendum approved toll projects. Requires transportation projects to be implemented in sequence following STI rankings. Requires all above monies dedicate to transportation projects and illegal to transfer these monies to general funds."
_______________
For more coverage of the DDI striping project, click here