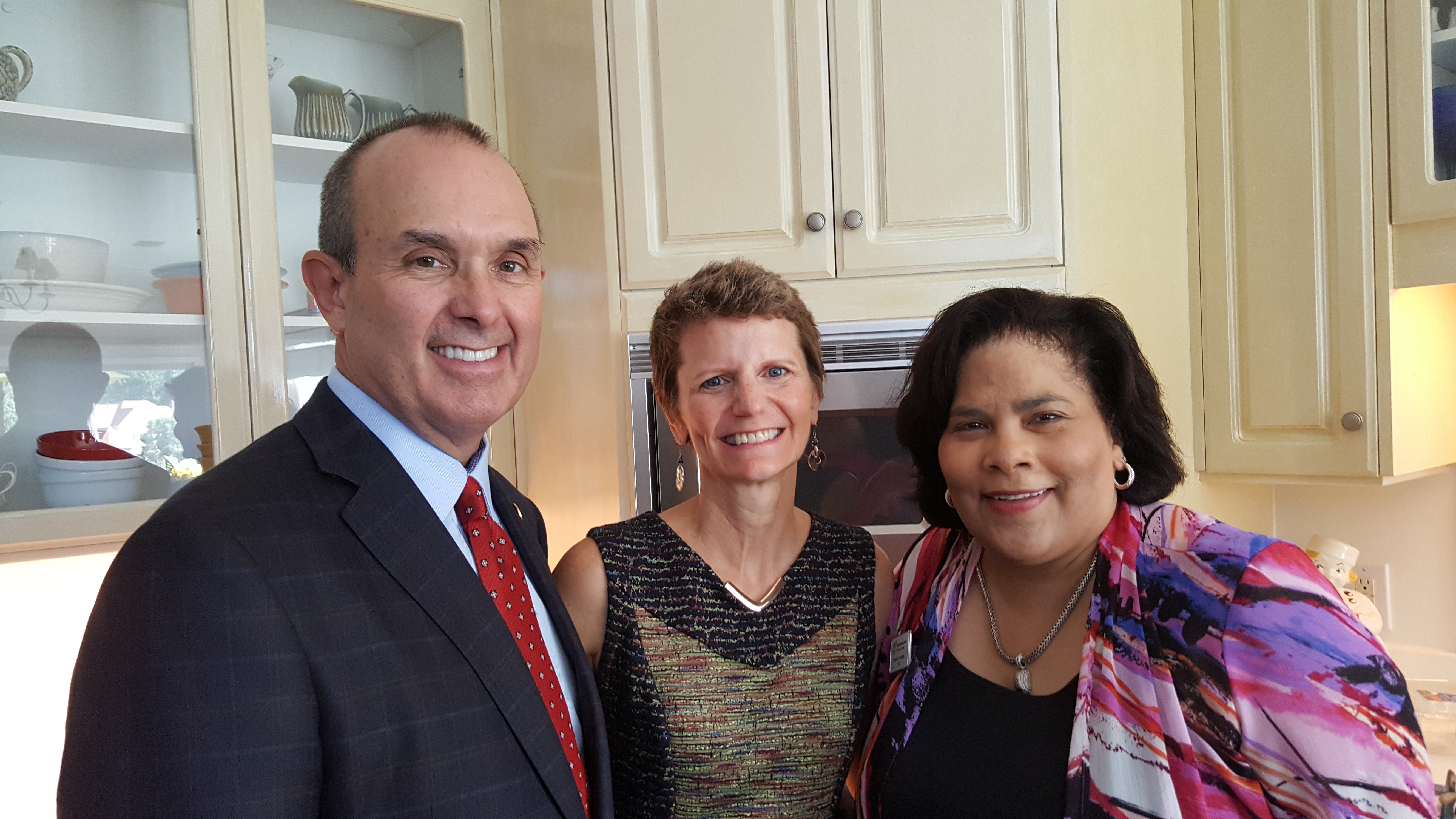 June 24. NC Sen. Jeff Tarte, the former mayor of Cornelius, has secured $200,000 in discretionary money  for Charlotte-based Big Brothers Big Sisters of Central Carolinas. The funding was announced at a Big Day at the Lake reception last night.
On hand were Cornelius Commissioners Thurman Ross and Jim Duke,  Mecklenburg County Commissioner Pat Cotham, NC Rep. John Bradford and a variety of business and community leaders, as well as Big Brothers Big Sisters CEO Donna Dunlap, and Carol Lee, the CEO of Big Day at the Lake when it was launched 13 years ago.
Tarte said he has seen the difference first hand Big Brothers Big Sisters make in children and teens. His daughter became a Big Sister after the Tarte family hosted kids during Big Day at the Lake each July.
The Tartes have been Big Day at the Lake Boat Hosts and financial supporters since its inception in 2004.
Big Day at the Lake matches at-risk kids in Big Brothers with volunteer boaters for a fun day on the lake. The kids fish, boat and swim with their Boat Hosts—and their chaperones or Bigs—and then gather at Duke Energy Explorium for a picnic.
The event is July 22 this year; the State of North Carolina has declared July 22 Big Day at the Lake Day.
The $200,000 discretionary appropriation will help push Big Day at the Lake well past $1.15 million in funds given directly to Big Brothers Big Sisters of Central Carolinas. The Charlotte-based non-profit has a strong track record of effective mentoring, such that "littles" stay in school, get better grades and steer clear of the juvenile justice system.
"This is a good way to put money into a successful program with a demonstrated track record," Tarte said.
This year's Big Day at the Lake fundraising goal was $100,000, said financial chair Della Stafford. The total was $98,200 Friday night with more pledges coming in, and not counting the $200,000 appropriation from the state legislature.
"The generosity of the people of Lake Norman, as well as people like the Tartes, and the support of the Legislature and our local elected officials and first responders, speaks volumes," said Tracy and Dave Yochum, the founders of Big Day at the Lake. "We are extremely grateful."
To register to be a Boat Host, visit www.bigdayatthelake.com
PHOTO: NC SEN. TARTE, DR. NANCY TARTE, BBBS CEO DONNA DUNLAP ….. photo credit Shelia Brumlow