June 21. Jason Benavides. Statesville native Dani Kerr is no stranger to performing her songs in front of an audience. She's performed all over the Lake Norman area, including LangTree Live and BoatYard Lake Norman but Tuesday she was on one of the biggest stages of her career. Her audition on Tuesday's episode of "America's Got Talent" was seen by millions.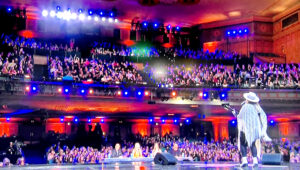 "When I was a little kid, I never thought that I would even have the courage to sing in front of one person and it's just, it's so crazy to be here," Kerr said to the AGT judges.
What started as an audition full of nerves ended in a standing ovation from the the AGT audience and judges. Judge Simon Cowell interrupted her initial song stating she sounded "really nervous" and asked Kerr to perform a second song.
That song was "November,"  an original that showcases Kerr's song writing ability as well as a voice compared to Dolly Parton and Miley Cyrus by AGT judge Heidi Klum.
Tears rolled down Kerr's face as she received a "yes" from all four judges moving her on in the competition and a second standing ovation from the audience."I love your song, I think you're a great writer," Cowell said. "You're authentic and importantly, your voice is so distinctive…you have one of my favorite voices this season, I really like you."
—She will be performing at Jack's Corner Tap July 22