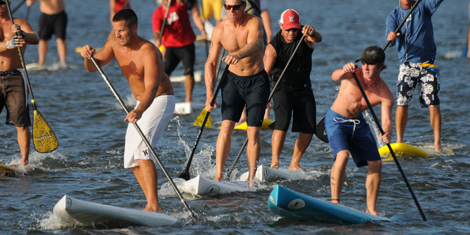 My Aloha Paddle & Surf  in partnership with Charlotte Cycleboats and the Southern Stoke Series, will host the 7th Annual Stand Up Paddle Board Race and fundraiser May 5 at Port City Club.
The events on Saturday morning will feature Elite (6.2 miles) and Recreational (2 miles) races, kid's races, and open class. All races are open to the public with some prior experience. Limited paddleboard rentals will be available on a first-reserve basis.
"It is very exciting to see our local paddlers and the community participating to contribute to these important charities," said Rob Bennett, owner of My Aloha Paddle and Surf.
The event begins Saturday morning with check-in at 7 am, the Silent Auction opening at 7:30 am and races to 10:45 am. There will be a live auction at 11 am and awards at 11:15 am followed by a Luau lunch.
Charities benefiting include Big Day at the Lake, Peninsula Community Foundation, Pat's Place, Young Elites, Surfrider Foundation, Ignite and SmileTrain.
More info: rob@alohapaddlesports.com  To register: https://paddleguru.com/races/paddle4purpose