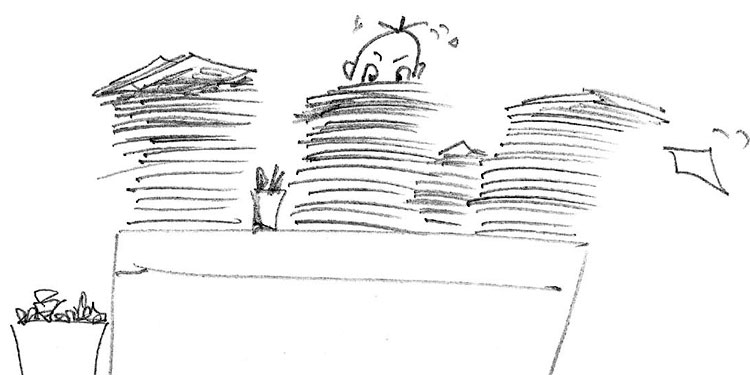 Dear Earthtalk: My company talks the talk when it comes to the environment but could do so much more to reduce paper use. Do you have any tips to help get the higher-ups on board to reduce paper use company-wide?
Answer: Cutting back on paper may seem "so 1990s" given the current focus of environmental organizations on climate change and related global issues. But reducing paper use is still one of the best ways companies, government agencies and institutions can help the environment during the course of day-to-day activities.
Getting a handle on just how much paper your entity could save is the first step. The non-profit Environmental Paper Network (EPN)—an umbrella group launched in 2002 and made up of more than 100 organizations working to reduce paper production and consumption and clean up the inefficient yet still expanding paper industry—makes it easy with its Paper Calculator. The free online tool compares the environmental impacts of competing paper products and assesses the larger impacts of paper use.
According to EPN, some of the tangible results of its work include legal protection for millions of acres of endangered forests, significant increases in the number of paper-related certifications and forest acres certified by the Forest Stewardship Council (FSC), a marked increase in the number of large companies developing environmental paper policies, vastly increased availability of genuine environmental papers for consumers, and increased demand for, and use of, recycled fibers.
EPN also makes available easy-to-read reports outlining the benefits of making more sustainable paper choices. Showing companies the economic advantages of reducing their paper usage and greening other aspects of operations has been key to building EPN's membership and expanding its influence overall.
While joining EPN may be more of a commitment than some entities are willing to make, there are plenty of other free resources to help reduce paper use and green business operations. The non-profit Natural Resources Defense Council (NRDC) offers up a plethora of tips on responsible paper consumption via its Greening Advisor program. A few examples include more double-sided printing and the use of smaller type fonts, eliminating paper coffee cups, and e-billing (invoicing clients via e-mail instead of paper).
NRDC also emphasizes that saving paper helps the bottom line: "A typical office disposes of about 350 pounds of wastepaper per employee per year…Identifying ways to reduce paper use can save money."
Yet another great resource is the U.S. Environmental Protection Agency's (EPA's) WasteWise program, which offers free information and assistance for corporate environmental sustainability efforts. Hundreds of companies have already partnered with EPA on the program. One of the biggest WasteWise partners, Bank of America, has saved upwards of $1 million annually since syncing up with the program.
CONTACTS: Environmental Paper Network,  www.environmentalpaper.org; Forest Stewardship Council, www.fsc.org; NRDC Greening Advisor,  www.nrdc.org/enterprise/greeningadvisor/; EPA WasteWise, www.epa.gov/wastes/conserve/smm/wastewise/index.htm.
---
EarthTalk® is produced by Doug Moss & Roddy Scheer and is a registered trademark of Earth Action Network Inc. View past columns at:  www.earthtalk.org. Or e-mail us your question:  earthtalk@emagazine.com.