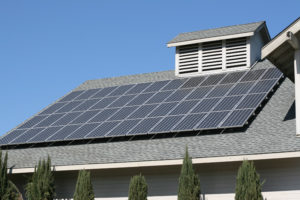 Dear EarthTalk: I'm finally ready to join the 21st century and commit to putting solar panels on my roof. Where do I start?
— Henry Hughes, Washington, DC
Good things may in fact come to those who wait. There's never been a better time to go solar, given how much prices for panels have come down while efficiency in converting sunlight to electricity—even in less-than-sunny locales—has risen dramatically. Of course, you can't just snap your fingers and get panels on your roof. First you have to navigate a confusing maze of regulations, incentives and installers before anyone even looks your roof over for feasibility.
The first place to start is to find out which federal, state and local incentives may be available in your neck of the woods for going solar. Check out the free online Database of State Incentives for Renewables and Efficiency (DSIRE), a comprehensive information resource that's updated by North Carolina State researchers working off a U.S. Department of Energy grant.
How does solar work? Is my home suitable for solar panels? Will I save money by going solar? Can I get financing? How will solar impact my home's resale value? If you're looking for answers to questions like these, the Department of Energy's Homeowner's Guide to Going Solar has you covered.
Trying to figure out if it's better to lease or buy your solar panels? You're not alone, and it's hard to do the math given the apples/oranges scenario. Luckily, the Solar Energy Industries Association (SEIA) spells it all out clearly—not just whether to lease or buy but also how to get multiple bids to save money and which questions to ask before entering into an agreement with an installer—in its recently updated Residential Consumer Guide to Solar Power.
Given how new the solar industry is, it's often hard to know whether a given installer is going to be reputable, let alone be able to survive the next economic downturn. Angie's List offers several pearls of wisdom—how the cheapest bid may not be the best deal, why extended warranties may not be worthwhile, how to save yourself from death by paperwork—in a recent article on the topic.
When you're finally ready to find an installer, check out the "Find a Certified Professional" page on the website of the North American Board of Certified Energy Practitioners (NABCEP), a trade group that offers the "gold standard" in professional certification and company accreditation programs to renewable energy professionals.
If you're a quote-comparing type, you'll also want to check out Energy Sage, a website that lets you compare quotes from solar installers in your area. This free service is maintained by the Department of Energy's (DoE's) SunShot Initiative, a national effort to support solar energy adoption by making solar energy affordable for all Americans.
While you can't go wrong with a highly touted local installer, there are also benefits to choosing one of a handful of companies leasing or selling solar panels on a larger scale across the country and beyond. SolarCity/Tesla, Vivint, Sunrun, Sunnova and SunPower are a few of the leaders, each offering solar installs in California and several other states including New Jersey, Massachusetts, Arizona and Hawaii.
CONTACTS: DSIRE, www.dsireusa.org; NABCEP, www.nabcep.org/certified-installer-locator; Energy Sage, www.energysage.com; Angie's List, www.angieslist.com/articles/how-hire-solar-panel-installer.htm; SEIA, www.seia.org; DoE, energy.gov/eere/sunshot/homeowner-s-guide-going-solar.
EarthTalk® is produced by Roddy Scheer & Doug Moss and is a registered trademark of the nonprofit Earth Action Network. To donate, visit www.earthtalk.org. Send questions to: question@earthtalk.org.