Aug. 17. UPDATE/1:00 PM. By Dave Yochum. In the wake of the violence in Charlottesville, Va., and vandalism at the Confederate soldiers' monument in Cornelius, clergy in Davidson and Cornelius are organizing a prayer vigil Wednesday, Aug. 23 on the Davidson Village Green.
Clergy members said the gathering, which begins at 7:30 pm, is not a protest.
"This is a time for prayer, lament, grieving, and finding a way forward together," said Rev. Joel Simpson, assistant pastor at Mt. Zion United Methodist Church.
NEW @ 1PM: The monument has been cleaned. Police say they do have surveillance video, however it is not being released because it is part of an ongoing investigation.  
NEW: Davidson Police said they are making plans to facilitate pedestrians to and from the prayer vigil with a presence during the event. "Our presence is to allow for a safe environment for those who wish to exercise their right to peacefully assemble in the Town of Davidson.  I will be reaching to our regional partners for assistance during the event," said Davidson Police Chief Penny Dunn.  Specific details on law enforcement techniques and tactics are not released as a matter of operational and officer safety.
The Confederate monument sits on a square of property in front of Mt. Zion that was deeded to a private monument association only a few decades after the end of the Civil War. It is not owned by or associated with the church.
The monument association did not return phone calls from Cornelius Today.
But Cornelius—and much of the South—is once again engaged in a national discussion on Confederate monuments and what they mean today. The monument in Cornelius is dedicated to soldiers who died, not a general.
It also sits on private property.
Gov. Roy Cooper said the North Carolina legislature must repeal a 2015 law that prevents removal or relocation of monuments on public property. Cities, counties and the state must have the authority and opportunity to make these decisions, he said.
"I've asked the Department of Natural and Cultural Resources to determine the cost and logistics of removing Confederate monuments from state property as well as alternatives for their placement at museums or historical sites where they can be studied in context," Cooper said.
There are around 120 Confederate monuments around the state.
"Some people cling to the belief that the Civil War was fought over states' rights. But history is not on their side. We cannot continue to glorify a war against the United States of America fought in the defense of slavery. These monuments should come down," Cooper said.
Making the distinction between a monument for the local soldiers who died and Confederate generals who led the War Between the States may be easier for white Americans than it is for African-Americans who are the descendants of slaves.
Then, too, erasing history does not escape history.
Cooper said: "Our history must tell the full story, including the subjugation of humans created in God's image to provide the back-breaking labor that drove the South's agrarian economy."
Will monuments on government-controlled property be moved? It's highly unlikely: Cooper is a Democrat and Republicans have a super-majority in the legislature.
Meanwhile, we are in the unique position of having a monument erected on private property in honor of the sons of town folk who died in a war they did not start.
Mayor Chuck Travis said he will attend the prayer vigil; he invited the mayors of Davidson, Huntersville and Mooresville to attend as well.
The vigil is being organized by Rev. Alexis Coleman, the missions pastor at Davidson United Methodist Church, and Simpson, a young minister at Mt. Zion.
"Charlottesville weighs heavy on my heart and the hearts of many people I talk with," Simpson said.
The vigil next Wednesday is about prayer and "lamenting as a community."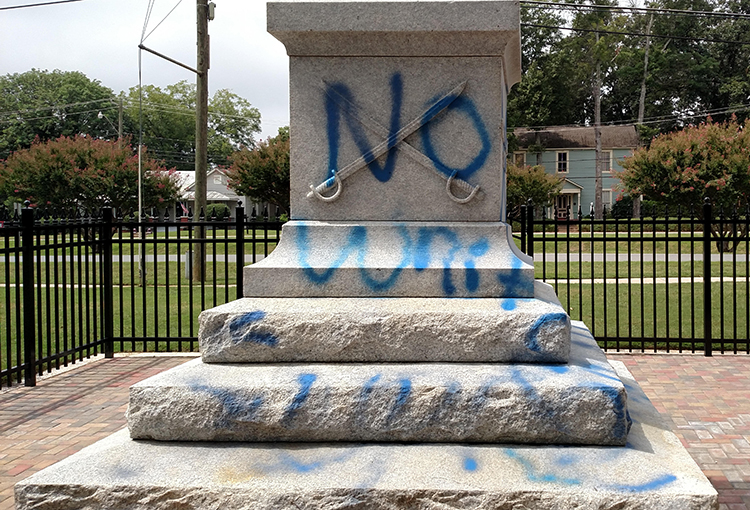 "This is not just about Charlottesville, it is about all communities…and how do we lament together about whats going on in our country and communities," Coleman said. "We all bear some of the responsibilities of where we stand in our communities today."
The gathering on the town green in Davidson will include include music and prayer, as well as a candlelight vigil at the end.
"What we have to do as community is sit in a place of deep sorrow," Coleman said.