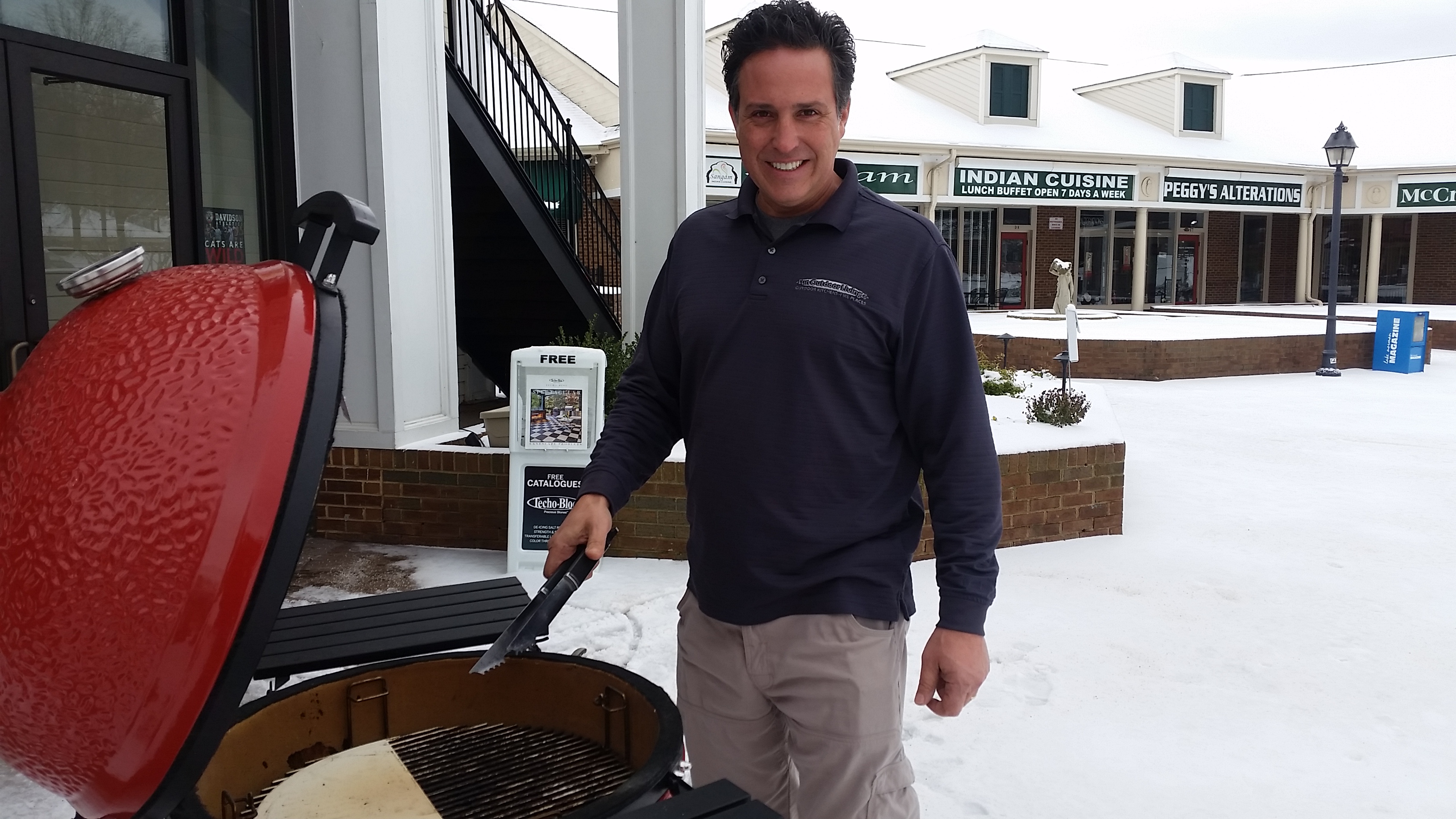 Jan. 23. Roads in Cornelius are OK, depending on which road, and what your definition of OK is. West Catawba is on and off icy and snow covered; North Main is clear on the tire tracks; and Jetton Road is mostly snow-covered. You'll skid if you speed. Bethel Presbyterian Church has cancelled Sunday services because of ice in the parking lot.
But businesses like Fun Outdoor Living, Prosciutto's Pizzeria and Brand Name Consignment were open Saturday, optimistic and ready for customers. Grocery stores are open, as well as the chain drug stores. Port City Club and Brickhouse Tavern in Davidson are both open. Port City will be showing the Panthers game tomorrow—with the sound on, of coure.
On Saturday, Fun Outdoor Living owner John DiFiore rolled a grill outside his store, and grinned for a photographer.
Streets like Washam are fully snow-covered. Clubs are closed and most events are cancelled, including the Cornelius Town Board retreat at The Peninsula Club. A beach party at The Pearl tonight is cancelled.
Temperatures will dip back into the 20s this evening, so road salting will become ineffective and surfaces will become hazardous again.
From the National Weather Service:
Saturday: Cloudy, with a high near 35. North northwest wind around 14 mph, with gusts as high as 23 mph. Total daytime snow accumulation of less than a half inch possible.
Saturday night: Mostly cloudy, then gradually becoming mostly clear, with a low around 21. North northwest wind 7 to 10 mph, with gusts as high as 18 mph.
Sunday: Sunny, with a high near 42. Northwest wind around 5 mph becoming calm in the morning
CHURCHES: IF YOUR CHURCH HAS A CHANGE IN SCHEDULED SERVICES, LET US KNOW.