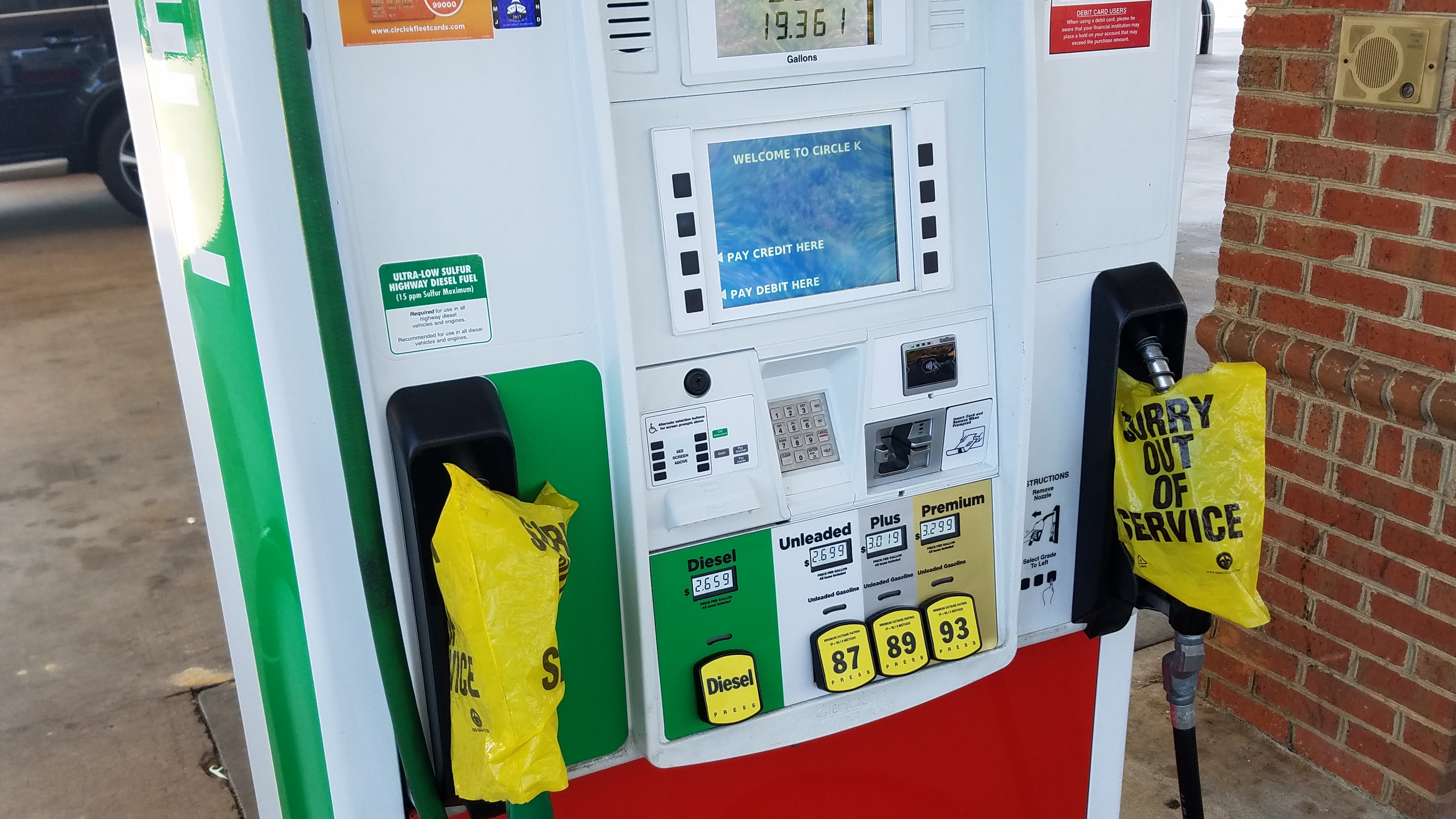 Sept. 9. By Dave Yochum. About the worst we're looking at are wind and rain Monday and Tuesday, but gas and water are drying up around Cornelius as people from Florida  to North Carolina and Tennessee brace for Irma. Some pumps are out of fuel at the Circle K on West Catawba. Cashion's on Hwy. 21 at Catawba says they will be out this afternoon, while their station on Main Street downtown is in good shape.
Today will be sunny, mild and breezy, as evacuees flee Florida and keep heading north into Georgia, South Carolina and North Carolina. Interstate rest areas are busy. Publix in Cornelius ran out of bottled water yesterday, but received a new shipment this morning.
While Hurricane Irma's current track appears more favorable for North Carolina, the potential remains for dangerous weather across the state. Gov. Roy Cooper urged residents to continue with their emergency preparations.
In and around Charlotte, look for winds 15-20 mph, with gusts up to about 40 mph. It means trees in some areas could fall, given steady rain.
"Things are looking better for North Carolina with Hurricane Irma, but our state is not yet in the clear and we can't let our guard down," said Cooper. "We're continuing to get ready, and I encourage families and businesses across our state to do the same."
Irma remains a large and powerful storm, and even a glancing blow to the state could cause damage.
While the latest forecast indicates a more westward track for Hurricane Irma, there is still the potential for severe weather across all of North Carolina. Heavy rain, flash flooding (especially in low-lying areas), tornadoes and scattered power outages are possible most anywhere across the state Monday and Tuesday. Landslides are possible in the mountains and coastal areas will see strong rip currents.
Cooper said the State of Emergency issued yesterday remains in effect until the threat has passed.
The State Emergency Operations Center remains activated and operations will continue as long as needed. North Carolina National Guard troops and state troopers also remain on standby.
State transportation officials announced that vehicles left unattended along interstates I-26, I-77, I-85 and I-95 in North Carolina will be towed to help keep traffic moving. Traffic volume has increased tremendously as residents from other states evacuate. Also, additional Incident Management Assistance Teams will be positioned along those interstates that are more congested. North Carolina transportation officials are working with their counterparts in Georgia and South Carolina to coordinate evacuation traffic.
Department of Environmental Quality staff are working with local communities to activate debris storage sites to speed up the cleanup process. They also are communicating with local public water systems and coastal fishermen to ensure they are prepared for the storm.